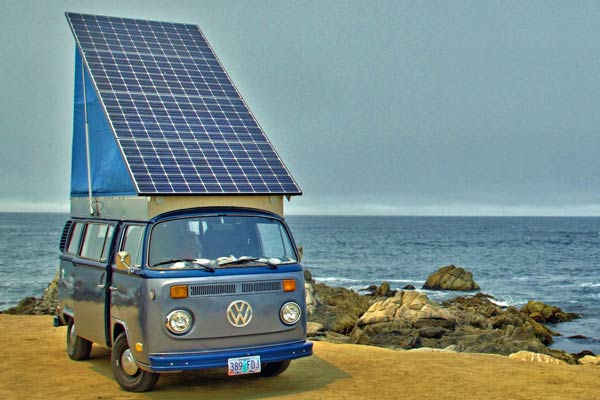 Solar Electric VW Bus
The Volkswagen Bus makes a great donor vehicle because of the surface area of its roof allowing for a large PV (photovoltaic) array that can tilt for maximum solar exposure. When tilted it creates a space underneath the panel that is enclosed with canvas to create a sleeping loft. In the main cabin is space to build the kitchen, table and other necessities for camping and life on the road.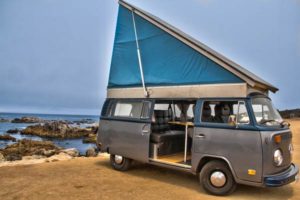 Redfoo's Electric VW Bus
Currently we are building a fully electric solar powered VW Bus for Redfoo. Redfoo is a singer/songwriter/rapper/DJ formerly of the band LMFAO.  "Im sexy and I know it!"  We are stoked to be building this bus for Redfoo, his girlfriend Jasmine and their three HUGE dogs!
This vehicle will sport the most efficient electric motor on the market.  The NetGain Hyper9HV can see up to 94% efficiency of electrical to mechanical conversion. (see our store for more info and to purchase this motor).
This bus is unparalleled with almost 3KW of  solar between the roof and the two solar awnings that pull out on on either side (similar to the eStar we did for Route Del Sol).
We are using 7 Tesla model S 5.3 KWhr battery modules for a total of about 37.5KWhr equating to about 100 miles of range.
This VW Bus is originally a Transporter but we will be building a full kitchen, lower couch/bed and upper sleeping loft/pop up tent.
To learn more and to watch our progress videos, follow us on all social media platforms @solarrolla and subscribe on youtube!